Yeah you can search for words like "lightmaps"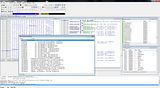 For pathways and lightmaps i have no clue really but if it is like most other things it should be possible with a "extra" folder to read from?. Like those bik files isnt in a .rfa format?
I´m just an amateur with this stuff so i cant really help you much with it.